Table Of Content [
Close
]
It's hard to beat homemade broccoli salad. This delicious side dish is filled with fresh crisp broccoli, bacon, red onion, sharp Cheddar cheese, tomatoes, and almonds. This is the perfect dish to bring to a potluck or picnic.
I love going to potlucks because you normally get to try everyone's best dish. This broccoli salad is perfect to bring to a summer picnic or even a potluck.
Everyone has their favorite coleslaw or even potato salad, but not everyone has a broccoli salad. Best of all this dish is quick and easy to put together. You don't even need to cook this recipe.
Ingredients for Broccoli Salad
Here's what you need:
A large broccoli crown or you can buy the regular broccoli and cut off the stalk. You can save the stalk for a salad or even some homemade broccoli cheddar soup.
Red onion. A white onion will work in a pinch if that is what you have on hand.
Fresh tomatoes. I have used cherry tomatoes, grape tomatoes, or even Roma tomatoes for this recipe.
Bacon, cooked and crumbled
Shredded Cheddar cheese
Raisins
Slivered almonds
Mayonnaise
White vinegar
Sugar
Salt and pepper
How to Make Broccoli Salad
Place broccoli, cooked bacon, onions, almonds, raisins, and cheese in a large mixing bowl. Stir to combine.
Mix together mayonnaise, vinegar, sugar, salt, and pepper in a small bowl.
Pour dressing over broccoli mixture.
Add tomatoes and gently stir to combine.
Serve immediately or cover salad and store in the refrigerator overnight.
While perfectly tasty when just made, the flavors to get better the longer you allow this salad to rest before serving.
If you cut want to cut the sugar from this you may want to add some Splenda in its place. I personally do like this with raisins. As I am not a fan of raisins, you can omit those as well.
You may want to read how to pick out fresh broccoli
Possible Variations
I hope you give this broccoli salad a try. I make mine with almonds, but I think cashews would work equally as well. The nuts add a nice crispness to this salad that I know you will enjoy.
I think you could also easily add some sliced cucumber or even some chopped red bell pepper for a nice flavor.
I hope you enjoy this broccoli salad recipe, I think you will find it a great addition to your picnic or potluck recipes.
Love broccoli? Check out these recipes
Best Potluck Salads
Take a look at more of my easy salads and summer recipes.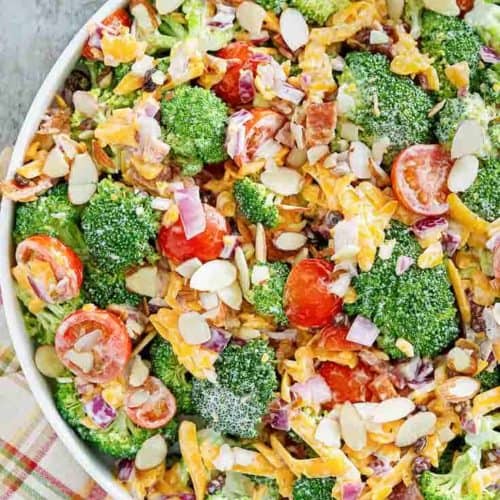 Homemade Broccoli Salad
class="wprm-recipe-name wprm-block-text-bold">
Broccoli salad is an easy and tasty side dish that requires no cooking.
Print Pin Rate Add to Collection Go to Collections
Servings: 12
Calories: 372kcal
Instructions
class="wprm-recipe-header wprm-recipe-instructions-header wprm-block-text-bold wprm-align-left wprm-header-decoration-none" style="">
Wash broccoli and pat dry. Cut off the broccoli flowers, leaving the stems aside. You can save the stems for use with a different recipe. Place broccoli in a large bowl. Crumble crisp bacon and add to bowl. Add chopped red onions, raisins if desired, shredded cheese, and stir. In a small bowl combine mayonnaise, white vinegar, sugar, salt, and pepper. Stir the dressing together and drizzle over broccoli. Add tomatoes last and gently mix in the tomatoes. Cover salad and store overnight. You can serve immediately if you desire, better flavors result the longer you let the salad rest.
Nutrition
class="wprm-recipe-header wprm-recipe-nutrition-header wprm-block-text-bold wprm-align-left wprm-header-decoration-none" style="">
Calories: 372kcal | Carbohydrates: 14g | Protein: 10g | Fat: 31g | Saturated Fat: 8g | Cholesterol: 40mg | Sodium: 499mg | Potassium: 418mg | Fiber: 3g | Sugar: 4g | Vitamin A: 690IU | Vitamin C: 69.2mg | Calcium: 196mg | Iron: 1.3mg